Prebiotics feed and increase the friendly bacteria in your gut without feeding bad microorganisms or pathogens. These 'good' bacteria play a significant role in maintaining the normal function of your immune system and keeping your digestive and intestinal system healthy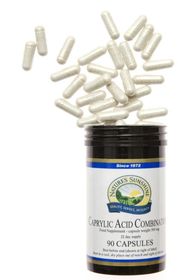 Nature's Sunshine's Caprylic Acid Combination is an enteric coated prebiotic designed to nutritionally support anyone wanting to rebalance friendly bacteria. Live bacteria are a valuable part of a healthy diet as they act as natural health promoters by populating the gastrointestinal tract with friendly microbes.
Each Caprylic Acid capsule is enteric coated to ensure that the contents are released in the intestinal tract.
This product can work in partnership with Pro B11, which provides almost 12 billion bacteria per serving.
Ingredients: Caprylic acid, capsule shell (gelatin, water), elecampane root (Inula helenium), black walnut hulls (Juglans nigra), red raspberry leaf (Rubus idaeus). Bulking agent; maltodextrin.
Recommendation: Take two capsules with a meal twice daily.
Do not exceed the stated recommended daily dosage.
Four capsules contain:
Caprylic acid............... 1200 mg
Elecampane root ........... 146 mg
Black walnut hulls ........ 127 mg
Raspberry leaves........... 127 mg