Our Cause
---

SUNSHINE HEROES FOUNDATION
This past year, in conjunction with the Sunshine Heroes Foundation Nature's Sunshine has helped fund the construction of a Sunshine Children's Center in the Dominican Republic. With over half of the populace receiving less than one-fifth of the country's GDP, many of the nation's people lack adequate healthcare and educational opportunities. The 9th Sunshine Children's Center to be built, this facility will offer vocational classes and various medical services, and with a basketball court adjoining the building, it will even give kids a place to play.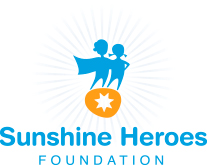 Overview
Nature's Sunshine constantly seeks to instill an attitude of caring and sharing in all of our distributors. For years, we have shared the health and prosperity with which we've been blessed with people around the world through both our business and our philanthropic efforts. More recently, we have partnered with the Sunshine Heroes Foundation for many of our philanthropic endeavors.
As a founding sponsor, Nature's Sunshine has aided Sunshine Heroes in renovating baby hospitals in Russia, constructing schools in Africa, bringing clean water to thousands of children throughout Asia, and building Sunshine Children's Centers throughout Central America. Going forward, Nature's Sunshine will continue to support the Sunshine Heroes Foundation as they seek to improve the lives and opportunities of children throughout the world.
Sunshine Heroes Projects
2015 - Panama
In 2015, Sunshine Heroes constructed their eighth Children's Center in Bocas del Toro, Panama. Equipped with a learning center and computer lab, library, health clinic, playground, and even a small skate park, the center will service over 3,000 people annually. It is also the first and only American Safety & Health Institute training center in Panama.
2014 - Nicaragua
In 2014, Sunshine Heroes built their seventh Children's Center equipped with a health clinic, library, garden and playground. This center will serve over 3,000 people per year and is staffed and paid for by the government and local communities. Watch the highlight video below to learn more about this fantastic project!
2013 - Thailand
Sunshine Heroes helped provide Bio-Sand water filters to four villages in northern Thailand to provide clean drinking water to more than 4,000 individuals in these remote areas. Produced using local labor and materials, these filters can last for decades as they work through natural processes and don't require electricity, fuel or chemicals.